An organisation that places professional clowns in hospitals in order to accompany children and adults during disease processes. The aim is to improve the physical, mental and social wellbeing of patients, professionals and family members.
What solution does the innovation propose?
More and more scientific studies are proving the numerous health benefits of humour. It not only helps reduce stress or anxiety, but also strengthens the immune system, lessens perception of pain and improves cardiovascular health. Understanding disease as an opportunity for transformation and seeing the patient as an active agent in the healing process, humour is used as a key tool to cope with adverse situations related to illness.
Professional clowns team up with health professionals and carry out personalised artistic performances in which the human individual prevails over his or her medical condition. Laughter helps patients in many aspects such as withdrawing from negative thoughts, countering nervousness and alleviating long waits. In addition, health professionals reduce their anxiety and increase their motivation, all in all resulting in the humanisation of hospital interactions and processes.
Recognitions
Premio Valors, Consell de l'Advocacia Catalana (2019). Premi Ara Tatiana Sisquella (2015).
Impact evidence
Outputs
In 2018, Pallapupas worked with 72,061 patients as well as 118,825 professionals and family members.
Outcomes
Several international studies have documented the positive effects of medical clowns in people's wellbeing, therapeutic improvement and reduction of hospitalisation costs. Their intervention has also proven to be effective in reducing stress among family members and professionals working with hospitalised children.
Others show statistically significant connections between the intervention of medical clowns and hospitalisation costs related to the length of stay and lower use of anaesthesia and analgesia.
Several surveys and studies carried out by Pallapupas show:
Participants reporting improvement of their emotional state in over 40% of the cases.
93% of healthcare professionals stating that Pallapupas' work helps them improve their relationship with patients and family members; and 52% reporting improvements in their own anxiety.
Sources
Pallapupas Global Report of Evaluation (2018).
Dionigi, A. and Canestrari, C. (2016). "Clowning in health care settings: The point of view of adults". Europe's journal of psychology, 12(3).
Kontos, P., Miller, K.L., Colobong, R., Palma Lazgare, L.I., Binns, M., Low, L.F., Surr, C. and Naglie, G. (2016). "Elder-clowning in long-term dementia care: Results of a pilot study". Journal of the American Geriatrics Society, 64(2).
Vagnoli, L., Caprilli, S., Robiglio, A. and Messeri, A. (2005). "Clown doctors as a treatment for preoperative anxiety in children: a randomized, prospective study". Pediatrics, 116(4).
Kocherov, S., Hen, Y., Jaworowski, S., Ostrovsky, I., Eidelman, A.I., Gozal, Y. and Chertin, B. (2016). "Medical clowns reduce pre-operative anxiety, post-operative pain and medical costs in children undergoing outpatient penile surgery: A randomised cont
How does it work?
The staff consists of experienced performing arts professionals specialized as clowns. These receive specific training to understand healthcare sector dynamics and people's needs, and adapt the interventions accordingly. Having started operations in paediatric hospitalisation, the organisation's work has already been extended to adults and elderly people. Hospital clowns mainly intervene in invasive medical procedures (such as surgery or blood draw processes), administration of treatment (in day hospitals or oncological services) and hospitalisation.
Their work is integrated as part of the assistance process in coordination with health professionals. Based on empathy and responsiveness, interventions are always adapted to the physical and emotional state of each individual as well as their family situation. Patients are then involved in the creation, adaptation and evolution of the artistic performances.
Geographical scope
Where was initially developed
Sant Joan de Déu Hospital, Barcelona (Spain).
Where has been implemented so far
14 hospitals in 9 different municipalities. Medical clown projects were initially developed in Canada and are spread all over the world.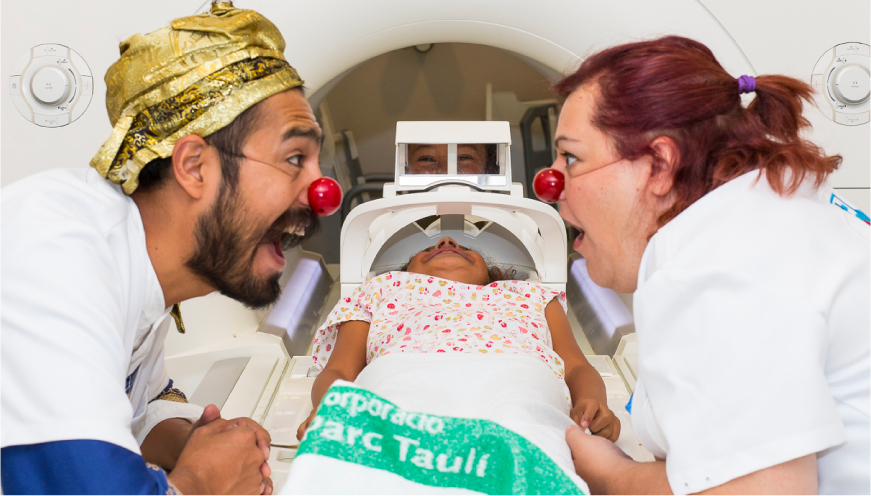 Sustainable Development Goals