Promoters:
Richard Barth, KIPP foundation.
A network of college-preparatory public charter schools that equips underserved students with the knowledge, skills and character strengths needed to succeed in college and life by sharing best practices and a set of operating principles.
What solution does the innovation propose?
KIPP (Knowledge Is Power Program) is a network of charter schools educating early childhood, elementary, middle and high school students. Charter schools are tuition-free public schools, run to state and federal academic standards with more flexibility than traditional public schools, in exchange for increased accountability.
At a national and regional level, KIPP schools are collectively aligned around a common mission and share ambitious objectives for growth and performance. Its approach is based on positive psychology and focuses on seven highly predictive character strengths that are correlated to training engaged, successful citizens: zest, grit, optimism, self-control, gratitude, social intelligence and curiosity.
Recognitions
Richard Barth is a social entrepreneur by the Schwab Foundation.
Impact evidence
Outputs
KIPP works in 224 schools serving nearly 100,000 students.
Outcomes
95% of KIPP students graduate from high school, compared to the 83% national average and the 70% from low-income communities.
44% of Early KIPP Alumni have earned four-year college degrees, compared to the 31% national average and the 9% in low-income communities.
Several external, experimental studies have found positive, statistically significant, and educationally meaningful impacts on student achievement at different levels.
Sources
Data provided by the organisation based on official graduation rates.
How does it work?
Schools share best practices and a set of operating principles, including:
High expectations. Students, parents, teachers and staff create and reinforce a culture of achievement and support. They also sign a pledge that defines their roles in building a positive school experience.
Focus on character. The system helps students foster essential strengths for their success and well-being, while empowering them to express their voice and develop independent thinking.
Highly effective teachers and leaders. Investment is made in continuous on-the-job training, collaborative learning and transformative coaching experiences.
Safe, structured and nurturing environments. KIPP provides an extended school day for academics and extracurricular activities. Small-group instruction, technology and other strategies are also used to personalise learning and engage students.
'KIPP through college'. Counsellors individually support students during the decision-making process. Networking, meetings and other events help them connect to real world opportunities. After high school, advisors help alumni navigate the academic, social and financial challenges they might encounter in college or while pursuing a career.
Geographical scope
Where was initially developed
Houston, Texas, United States.
Where has been implemented so far
Implemented throughout the United States.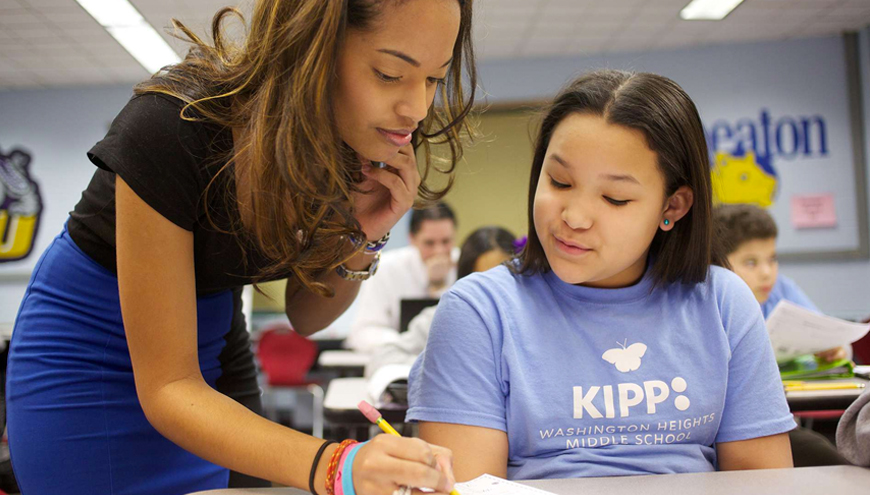 Sustainable Development Goals