Promoters:
Municipality of Medellín and Empresa de Desarrollo Urbano.
An urban intervention strategy based on social planning, that combines governance, mobility, cultural, public space and other recovery interventions to transform the lives of people living in historically deprived communities.
What solution does the innovation propose?
Traditionally, urban development projects had a top-down approach and focused on the search for specific solutions to physical problems. Medellín's urban regeneration is the sum of coordinated and sustained efforts by different public institutions and communities. Central to this process are the Integral Urban Projects (IUP): multidimensional instruments for urban regeneration in which communities play a major role. The strategy builds upon a comprehensive approach to both the needs of the residents and the potential of public space that legitimates physical interventions, whether they are parks, public facilities, transport infrastructure or accessibility improvements.
IUP are based on Jaime Lerner's urban acupuncture model which, in addition to physical interventions, stimulates perception interventions. These types of interventions do not necessarily respond to urban strategies, but build narratives based on collective memory that enable communities to rebuild their identity while strengthening resilience and social cohesion. Though Medellín is still facing complex social challenges, regeneration processes in the most deprived areas of the city have come to symbolise the power of cultural development and social inclusion in countering violence. Medellín's new narrative has replaced criminality with innovation, turning the most vulnerable areas into visible, attractive assets even for tourism and investment.
Recognitions
Lee Kuan Yew World City Prize (2016). City of the Year, The Wall Street Journal, Citigroup and Urban Land Institute (2013). Veronica Rudge Green Prize in Urban Design, Harvard University (2013).
Impact evidence
Outputs
Library parks receive a daily average of 8,000 visitors.
886 sports facilities are used by a monthly average of 700,000 people.
Traditionally perceived as the most dangerous neighbourhood in Medellín, Comuna 13 receives over 1,000 visitors daily.
Outcomes
The North-eastern IUP generated 3,439 employment opportunities for residents.
The multidimensional living conditions index in Medellín's urban area, increased by 4.4% between 2010 and 2018.
The metrocable system benefited 134,000 inhabitants reducing travel time from 1 hour to 10 minutes.
According to a national survey, the inhabitants of Medellín have now the highest reading rates in the country.
How does it work?
Projects that structure and catalyse a wide range of public space and infrastructural interventions in specific areas. Within this framework, cultural centres, sports venues, housing projects, schools and green spaces are designed and managed with a social citizen-centered lens to meet the highest quality standards.
One of the paradigmatic examples of this approach are library parks, intended as cultural centres that foster citizen interaction through educational and recreational activities. In parallel, the improvement of the urban transport system (including metro, cable car and outdoor escalators in less accessible areas) has connected popular settlements to the city centre, and integrated small community facilities in its stations which act as forums for citizen interaction.
Some boroughs of Medellín, such as the iconic Comuna 13, have simultaneously experienced the growth of philanthropic actions and self-managed citizen initiatives. These use urban arts and culture (hip-hop, break dance, graffiti) as transformative drivers, generating positive synergies with social urbanism strategies as well as empowerment dynamics among the youngest residents. Examples include Techo una Historia, Graffitour and Casa Kolacho.
Geographical scope
Where was initially developed
Where has been implemented so far
Central-East and Northwest Medellín. Park libraries have inspired infrastructural and participative projects in Caracas (Venezuela), Rio de Janeiro (Brazil) and Barcelona (Spain).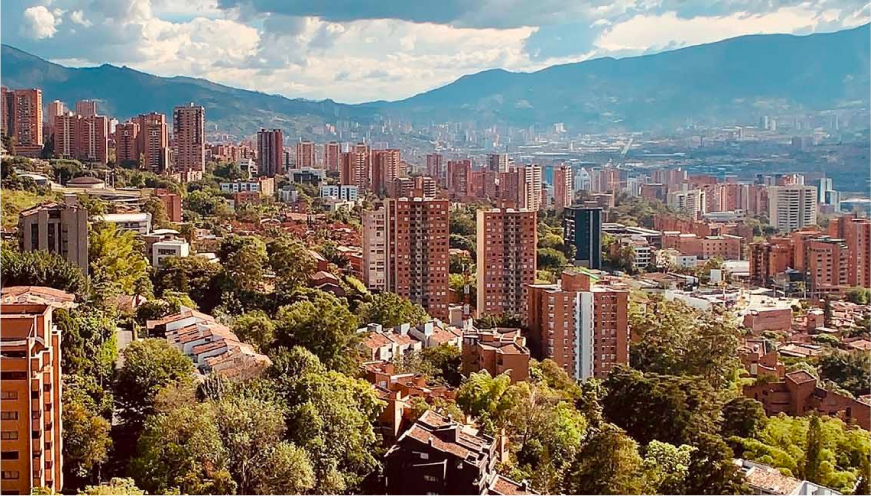 Sustainable Development Goals