Umbrella initiative seeking systemic change through food related programs and actions in collaboration with local community stakeholders, to make fresh, healthy and culturally diverse products more easily accessible in vulnerable neighborhoods.
What solution does the innovation propose?
Systemic solution looking to generate changes in all of the food chain, from production and distribution until universal access and intake. Guided by principles of food security and food justice, diverse activities are implemented to increment the access and intake of fresh, affordable, good quality, healthy, nutritious food to those most affected by poverty and food insecurity. Barriers such as lack of transportation, long distances, disabilities, lack of time and resources are addressed while respecting and reflecting the cultural, racial, economic, religious and social diversity of the communities.
After more than 35 years of experience it implements 22 programs through two strategic guidelines: schools and communities. These programmes include, for example kitchen incubators, school grown gardens, community gardens, food education courses and a volunteer operated support line to connect community members with local low-cost food programs. The community approach is key for its operation, the neighbors promote, adopt, lead and run all activities, contributing to the cohesion and strengthening of the neighborhoods.
Recognitions
Community Engagement Award of Birchmont Bluffs Neighbourhood Centre (2016). Trade's Sustaibability Award (2015). Toronto Community Foundation Vital Ideas Grant (2014). Health Promotion & Innovation Award for the Canadian Institute of Child Health (2013).
Impact evidence
Outputs
Good Food Markets (2018):
46 assisted markets.
228.257 lb of fresh vegetables and fruit delivered.
28.796 transactions made at Good Food Markets.
Mobile Good Food Market (2018):
57.000 lb of fresh vegetables and fruit delivered.
10 isolated neighborhoods were reached.
Outcomes
Over 80% of respondents indicated that since participating in FoodShare programming, it takes them less time to access fresh foods.
Nearly 60% of respondents indicated that the programme was either "extremely" or "very" helpful in saving them money.
Over two thirds of participants reported that they 'eat more' fresh vegetables and fruit since becoming involved with the programme.
Interview and focus group findings suggested that the most frequent knowledge and/or skills reportedly gained by the programme were related to "healthy eating" and "preparing food".
74% of respondents indicated that their relationships with other community members improved.
Respondents emphasized the value of the learning from other customers and volunteers and socializing with a diverse group of individuals in their communities.
How does it work?
In midst of all activities, the good food markets, and mobile good food markets stand out as innovative programs with great potential for impact. Good Food Markets function once a week in neighborhoods without available healthy grocery stores. Key to its successful operation is that community organizations and members implement, lead and manage these spaces. Also, the markets need to find a partner to donate left-over food. The initiation cost lies at approximately $700, and there is a weekly payment for the actual cost of fresh products, without the subsidized overhead charges, which is assumed entirely by managing community organizations. FoodShare trains the leading team and supports handling operational aspects, commercializing products to minimize losses, and organizing the purchase of fresh food from local farmers and food terminals. Resources such as financial guidelines and tools like newsletters to attract and communicate vital information to neighbors and potential clients are also provided.
A second big objective is to create gathering spaces to meet, share and celebrate. Ideas and resources to convert markets into joyful and popular public spaces are also provided.
In the Mobile Good Food Market, food trucks function as mobile markets in "healthy food-deserts": isolated, particularly vulnerable, low income neighborhoods with a high rate of single-parent households and senior population, and at least one-kilometer walking distance from the nearest discount grocery store.
Neighbors order the products they would like to buy, and pay for the total cost of food, while FoodShare subsidizes the costs of infrastructure, salaries and transportation.
Some of the organization's income, come from external and private funding sources, but the markets are also partly financed by their social enterprise programs, such as food sales to schools or companies, or healthy food boxes delivery.
Geographical scope
Where was initially developed
Where has been implemented so far
Diverse neighbourhoods in Toronto.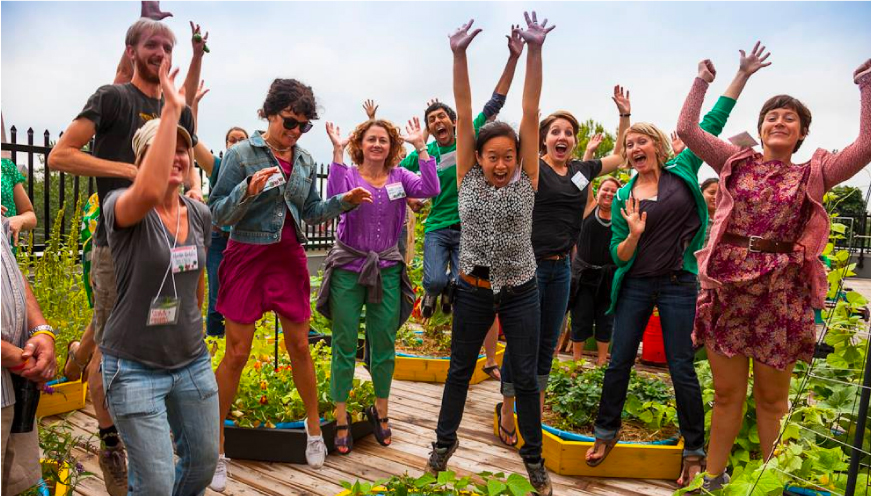 Sustainable Development Goals