Social enterprise preparing more organizations and people to embrace digital transformation. They specially focus on empowering young women from underserved backgrounds by giving them access to digital education and quality jobs in the STEM sector.
What solution does the innovation propose?
In times where the rates of unemployment keep rising, the technology sector job market is growing faster than the supply of skilled programmers. Laboratoria's programmes address both: unemployment, by preparing participants for the future of work; and the gender gap in the technological and digital economy, by training women. The aim is to build cities and ecosystems where the digital economy and the tech sector are truly examples of diversity and inclusion, and where women play a key role designing the future of these places.
The main line of action is the preparation of talented young women from underserved backgrounds as software developers and UX designers who are then placed in well-paying professional jobs to inspire other women. Graduates begin a career in a sector with significant opportunities for growth, setting themselves on a path out of poverty. The second line of action which helps sustain the first one, are their Corporate Training Courses, in which they assist leading companies to build the needed skills to embrace digital transformation.
The pursued education is focused on breaking down barriers and stereotypes and teach talented people how to become life-long learners who can adapt to a fast-changing world, developing not only tech skills, but stronger critical, creative thinking, communication, and overall socio-emotional skills.
Recognitions
Winner of Equals in Tech Award (2018). Change Agent Abie Award (2018). Mariana Costa is an Ashoka Fellow (2017).). Google RISE Award (2016). MIT Technology Review Innovators Under 35 – Mariana Costa (2015).
Impact evidence
Outputs
More than 1,600 women graduated as Front-End Developers and UX Designers.
Graduated women have salary on average three times higher than their previous income.
More than 600 hiring companies.
Through their corporate training programs over 7,000 employees gained new skills for the digital era, supporting the digital transformation of 26 leading companies in the region.
Their global network of partners continues to grow and includes organizations such as USAID, IBM, Cisco, IDB, Google, Microsoft and J. P. Morgan.
Outcomes
78% of the graduates are hired.
Sources
Data collected by the organization (2020). Job insertion data obtained from participants' employment contracts
How does it work?
Through a rigorous methodology, talented young women in vulnerable areas are identified and trained to become Web Developers or UX Designers. Women selected meet a certain economic profile and have passed a series of tests to evaluate their basic cognitive abilities, soft skills and capabilities. Those chosen, enter an intensive six-month bootcamp, followed by a year and a half of part-time continuing education courses to expand their opportunities.
Bootcamp teaches them how to code and use the main programming languages for digital products and services. The collaborative Agile Classroom approach with rapid cycles of iteration and feedback, teaches students to self-organize and self-assess, strengthening their self-awareness and critical thinking, essential skills in a fast-changing industry. Guided by psychologists, 25% of the training time is devoted to developing social-emotional skills such as perseverance, self-confidence, and teamwork.
The network of partner companies co-design and validate the curriculum to ensure graduates emerge with the needed skills, and usually end up hiring them. Once participants have a job, they pay Laboratoria either a set monthly rate for the continuing education, or a percentage of their salary on a sliding scale.
Their second area of focus, the Corporate Training courses, help sustain their social enterprise for women. Through training and acceleration programs, organizations learn to implement a culture of continuous learning and improvement and are encouraged to rely on in-house, which is often overlooked.
Due to COVID-19, all operations were launched online. They are already experiencing the opportunities of connecting students across centers, cohorts and tracks, and are excited to consolidate a program that can have a much larger reach.
Geographical scope
Where was initially developed
Where has been implemented so far
Santiago (Chile), Sao Paulo (Brazil), Guadalajara and Mexico City (Mexico); Bogotá (Colombia).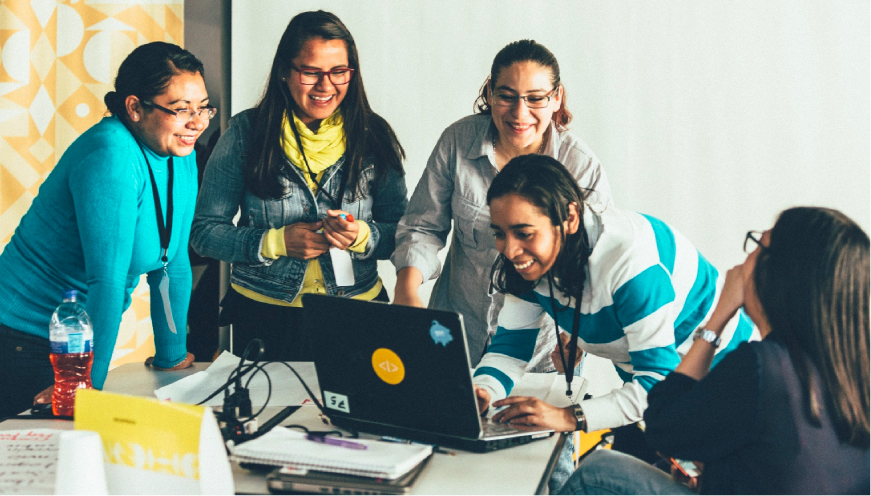 Sustainable Development Goals